Hello, my name is Kay and this is my Deviantart Gallery!
---





Commissions can be ordered via my website:
albinofruit.com/art-commission…
---
To-do List
1. Commission for writer guy.
2. Group YCH commission
---
Please do not ask me to buy commissions from you or ask me to buy you art from someone else.
---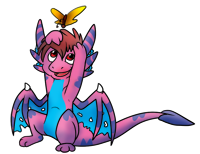 Dragon Clan Lands
Please consider joining the DCL if you like dragons/roleplay/art. It's awesome and everyone on it is awesome:
www.dragonclanlands.com/forum/